Weddings at Samode Palace
Average Room Rate : 19000 + Taxes Onwards
Average Food rate : 3500 + Taxes Onwards
You are about to enter into magical union with your betrothed and might be looking for a splendid venue for the D-day in a spectacular surroundings. Events at Palace are tailor made for realization of your long cherished dream. The excitement of the event reaches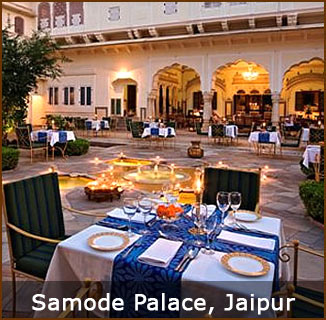 at its peak during a palace marriage at this royal palace. The aura of joining each other in holy matrimony at these grand premises is an experience hard to replicate anywhere.
As weddings in India are celebrated with all the elements of regality, the groom enters the venue riding a horse to join hand with his bride in holy matrimony. This palace has everything required for a vibrant function. Set amidst the beautiful surroundings of Pink city, this medieval times palace still holds its regal aura.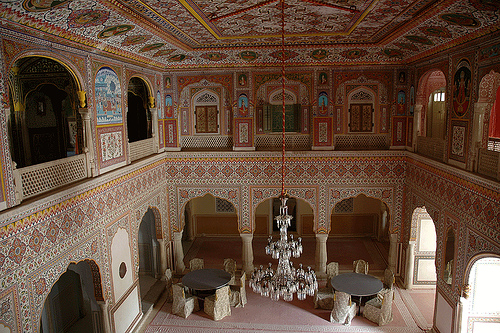 Your arrival at this palace sets the mood for a regal event.
Your holy union at this grand palace will be an experience of the lifetime for you and all those in attendance. Your event at Palace will have a splash of regality. Right from traditional procession to a well adorned Mandap (Canopy) everything here has a touch of regality. The palace has a courtyard where your wedding vows can be solemnized without hassle. The couple can throw a grand feast at its lavish Darbar hall.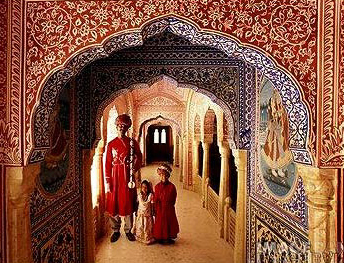 To organize your ceremony at Palace, Jaipur there are some accomplished professional planners in Jaipur who can make every big and small arrangement for the events.
Address
Village Samode, Tehsil Chomu
District Jaipur - 303806, Rajasthan